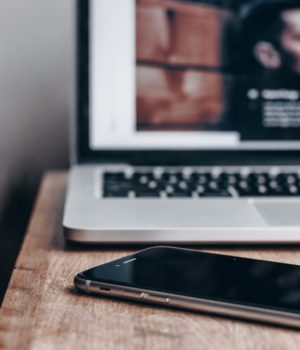 It all begins with a properly designed website.
More than half of all customers begin with an online search. If you don't put your best foot forward with the perfect website, you could be losing a tremendous amount of customers, supporters, or community members to other sites. While search engines like Google have complicated computer equations – you have us. Whether you have an existing site or are just looking to get started, we are here to make sure you make the best impression. Advertising, marketing campaigns, and promotions don't do you any good if you don't have the right website to send them to. Let us handle the heavy lifting so you can put your effort into building the best business or organization possible.
Our founder, Kevin, has more than 15 years in the web design business. The times are constantly changing and he has stayed up-to-date every step of the way. This gives us the confidence to know that we'll be on the cutting edge of technology for your benefit. As new standards and practices enter the field, it's important to make sure you're in the know. That's what we are here for. Want to take a deeper dive into our website services? Click here.
A Deeper Dive
Our company, based right here in Wendell, North Carolina, focuses extensively on website design. With more than 15 years in the business, our owner brings a lot of experience to the table. This helps us stay up to date on the latest technology and trends to create the best web presence for you. Below are some of the nuts and bolts of what makes our websites some of the best available, at the best price, guaranteed.
Hand-crafted
There are a lot of website companies out there these days that focus on a one-size fits all strategy. Whether it is Wix or Squarespace, they offer free or low-priced sites, as long as you fit into their pre-packaged styles. Not only are these options sometimes extremely complicated, they offer very little customization as you drag-and-drop into their pre-made options.
That's why we work to create custom, hand-crafted websites that fit your specific needs. No two organizations have the same needs and their websites should reflect those unique qualities. The best part is that our websites are competitively priced with those out-of-the-box sites making it a no brainer on which to choose. We take pride in offering the best options to fit nearly all budgets.
WordPress Back-end
We are a full-service agency and will be more than happy to take on all daily website updates. However, we don't feel that you should be forced into paying for things you may wish to do yourself. That's one of the many reasons we choose to build on the WordPress platform. The ease of use of the WordPress back-end allows for on-going updates and tweaks to be handled by you, saving you precious money. All of our sites come with customized instructions on how to keep your site updated on your own if you so choose. Our goal is to empower you as much as possible for success.
More reasons we use WordPress:
WordPress powers 30% of all websites.
Utilizes more than 50,000 plugins for a full range of features.
WordPress is Open Source meaning it is constantly tested and updated by the world's best programmers.
WordPress began in 2003, making it older than Facebook or Twitter. Tried and true!
Fully Mobile Responsive
In 2016 Google started prioritizing mobile-friendly websites in their search rankings. Since more than 50% of all web traffic is conducted on a phone or tablet, having a properly design Mobile Responsive site isn't a luxury, but a requirement. We put just as much emphasis on how your site looks on mobile devices as we do desktop devices. Capturing mobile users for interaction, eCommerce, or just information and directions, will be crucial to your success online.
Search Engine Optimization
In case you missed it all over our homepage, we are committed to helping you succeed with the best SEO (Search Engine Optimization) possible. We are so serious about it, that we offer a free SEO report for your current website. Whether you choose to use us for your SEO needs or not, we want you to have a fundamentally better understanding than you had before you found us. Technology should be easily accessible to all, not kept behind walls by tech gurus who just want to charge large amounts. We operate differently.
eCommerce Capable
We've worked with all kinds of small businesses and organizations who have products they need setup in an online store. Just as with all of our sites, we focus on simplicity of use by you. That's why our eCommerce sites are tailored to the type of product you're selling and how you want that sales structure to fit into your offline operations. We also employ the use of advanced WordPress plugins to help you manage your store as easily as possible while still providing you all the support you need – just in case. Our eCommerce sites use the latest techniques and industry standards. View all of our online store features by clicking here!
User-friendly
Hopefully you've noticed the running theme in all of these elements – ease of use. For far too long we've seen tech gurus lock technology behind an expensive lock and key. It's our goal to empower you to make the best decisions possible for your organization. A large part of that philosophy relies on making your websites just that – yours. You should have full control and confidence to do what is needed without seeing us as an obstacle. It's a team effort that we want to be a part of.
Ready to start a conversation?
Website Design FAQ's
Give Our Sites a Spin
Testimonials
Kevin at Douglas Media Group helped me wiz my way around when staring up my blog. He is very efficient and amazing at what he does. I highly recommend him for all future projects!
Our company has been working with Kevin for just over 2 months now. We originally had him migrate our ecommerce site from an ecommerce platform (3dcart) to WordPress. Because our site was so large, we ran into a few hiccups along the way. But, not once did Kevin give up, say something couldn't be done or lose his patience. He took the lead and researched numerous plugins, all the while working with their developers to get them to do what we needed done. Nothing seems to stand in his way of getting to the final destination. And, all the while he maintains a relaxed and cheerful demeanor. Thanks, Kevin for what you have done for us! Oh, and now we're having him do the same for one of our other ecommerce sites.
Kevin built four of our company websites with precision and efficient service. A reliable tech developer and consultant, Kevin knows the ins-and-outs of creating a strong online presence for your business. He is always attentive to our concerns and questions. An excellent guy with even better capabilities. I highly suggest using Douglas Media Group for affordable and classy web development. A website is something you need a professional to handle, and Kevin is the perfect guy. He was very patient with us and even taught us a few things along the way.
Kevin does an outstanding job turning rough ideas into customized, user-friendly websites. In addition, he was always readily available to answer the simplest questions and give advice. Efficient, effective, honest, dedicated, reliable, and skilled. He's a standup guy who truly knows his stuff.
Kevin has done all of my graphic design and website work since 2012. Extremely reliable and delivers top-notch work every time.